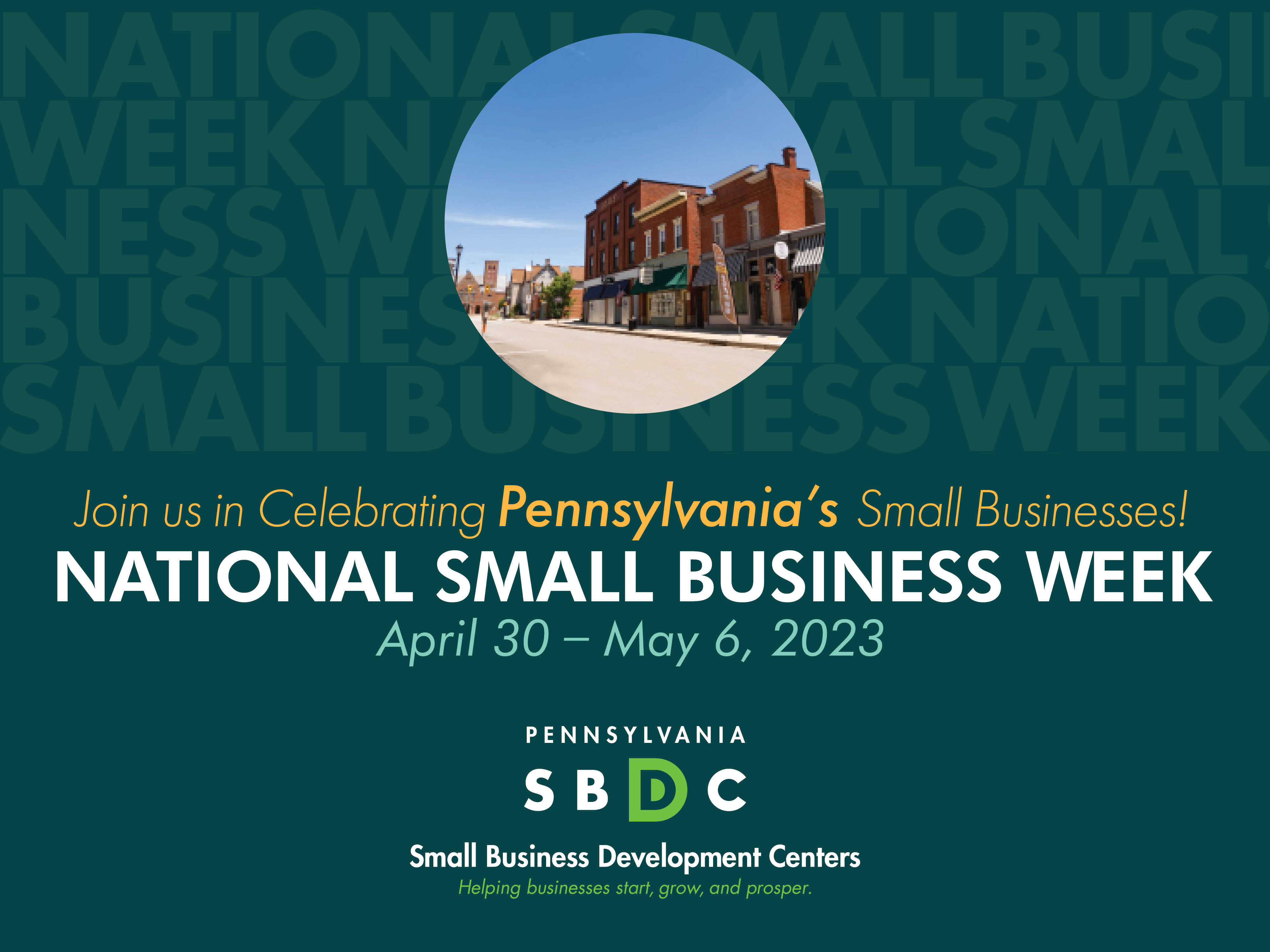 For more than 50 years, National Small Business Week (NSBW) has celebrated the critical contributions of entrepreneurs and small business owners across the country. With more than half of Americans owning or working for small businesses, their impact on our national economy, on our communities, and on millions of people in the U.S. cannot be overstated.

To coincide with National Small Business Week, Governor Josh Shapiro has proclaimed April 30 – May 6, 2023 as Pennsylvania Small Business Week. Our state is joining the celebration to showcase the impactful role small businesses play in the Keystone State's economy and in our communities. We'll also be highlighting the array of resources available to help any aspiring entrepreneur turn their idea into a working and sustainable small business – because there's no better day than today to start a business in PA.

No matter what small business owners look like, where they come from, who they love, or who they pray to, they are valued in Pennsylvania. We hope you'll join us as we recognize and celebrate our state's small businesses and entrepreneurs.

Diversity & Impact of Pennsylvania Small Business
Pennsylvania small business owners come from all walks of life. They represent a rich diversity of races, ages, genders, orientations, backgrounds, and veteran statuses – and we are celebrating them all during Small Business Week.
39.5 percent of small business owners are women
12.5 percent are racial minorities
4.5 percent are Hispanics
6.1 percent are veterans
Small businesses are our economic engine. Pennsylvania is home to 1.1 million small businesses that employ 2.6 million workers.

13,135 (88.2 percent) of PA firms that exported goods in 2020 were small businesses. Small firms exported goods worth $10.7 billion.

No matter what small business owners look like, where they come from, who they love, or who they pray to, they are valued in Pennsylvania.

Small businesses are the heart of our communities
Small businesses shape our communities' cultures, provide a source of pride and local identity, and create a sense of place. They're one of the best parts of working and living in Pennsylvania - and by starting a business, you're joining more than one million other small business owners whose hard work and dedication are building the local community.

Small businesses are particularly good for local economies.
For every $100 spent at a small business, $48 goes back into the local economy in which the business is located.
If that same $100 is spent at a big box store or national retailer, only $14 makes it back to the local economy.

We encourage all Pennsylvania residents to take Small Business Week 2023 as an opportunity to support their favorite local businesses.
Shop at your favorite store
Eat at your favorite local restaurant
Leave a positive review online for your favorite small businesses
Talk about your favorite local small business on your social media accounts and like and share their social posts with #PASmallBiz23
Entrepreneurs, Pennsylvania has your back
Whether you're just working on your side hustle or replacing your 9-to-5, starting a business takes courage, dedication, and a commitment to hard work. But you're not alone. Pennsylvania has your back.

DCED and our partner network across the commonwealth offer many resources to help small businesses grow.

The PA Business One-Stop Shop is the first point of contact for Pennsylvania business development. The One-Stop Shop team helps connect and guide businesses through all stages of development - from planning and startup to operating and expanding.
– The One-Stop Shop offers dedicated resources and assistance for businesses (including minorityowned, women-owned, and veteran-owned businesses), including how to register as a business, training and best practices on important business topics including eCommerce, and a checklist to help you navigate the process of starting a business.

– The One-Stop Shop can also help connect you with specific opportunities and partner networks for one-on-one counseling, training, and business assistance.

Through the PA Business One-Stop Shop, entrepreneurs can also connect to Pennsylvania's extensive partner network – including groups like the Small Business Development Centers, local and regional economic development organizations, the Ben Franklin Technology Partners, the Life Sciences Greenhouses, and many others – who serve as the boots on the ground that provide the critical one-on-one support that small and early-stage businesses need to grow.
National Small Business Week Virtual Summit (May 2-3)
Over the course of two days, meet other business owners and learn about additional resources during the
National Small Business Week Virtual Summit
hosted by the U.S. Small Business Administration and SCORE.
This year's NSBW Virtual Summit will feature educational workshops presented by event cosponsors, access to federal resources, and networking. Register to save your seat on the
U.S. Small Business Administration website
.