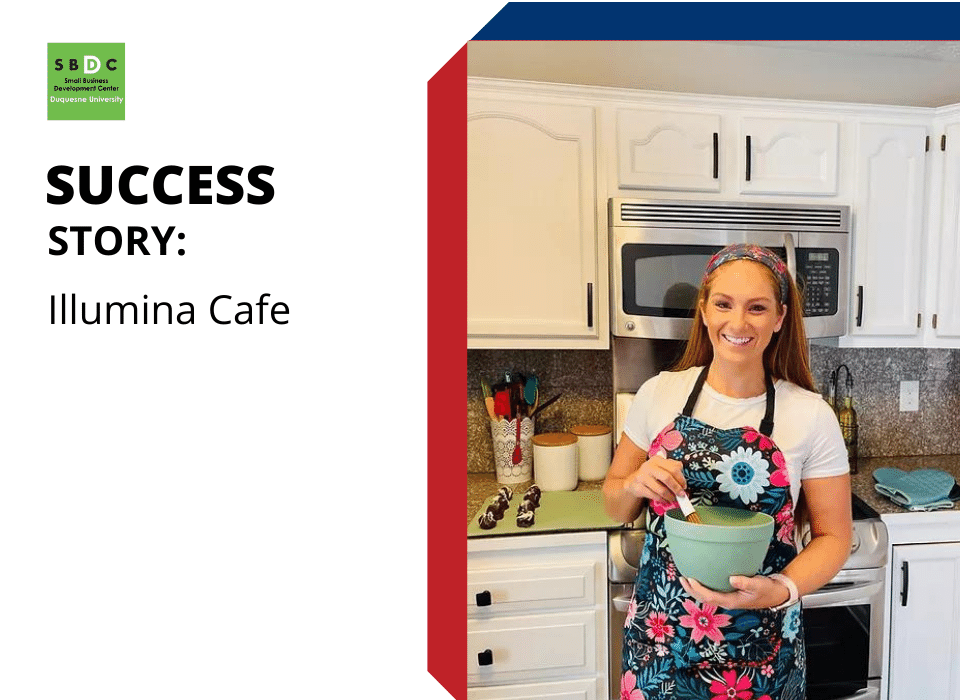 The Passion and the Problem

Ariel Clatty has always had an interest and passion for food, health, and the psychology behind why we eat what we eat. For the past eight years, Ariel has struggled with celiac disease, and the lack of products in the market tailored for those that suffered from the same conditions. This shortfall inspired her business idea. That's when Illumina Café was born; a Café and Bakery made for those with dietary restrictions (and those that only want to eat healthier food too).

Adjusting to the Small Business World

Ariel began executing her business idea in 2020, during the peak of the COVID-19 pandemic. The pandemic was a struggle for all of us, especially Ariel, who was new to the small business world. Ariel earned her Ph.D. in healthcare ethics. She works as a medical ethicist at UPMC Shadyside. Ariel continues to balance her healthcare ethicist work with the demands of starting and growing a new business.

It was in part due to the Duquesne SBDC that Ariel found guidance on how to start and grow her business. The SBDC helped write her business plan, create financial projections, and assisted with marketing and promoting her newly-created business, which was officially open for business in 2021.

Scaling Up

Because of the uncertainty brought on by the pandemic, Ariel decided to focus her business on E-commerce, to build her brand and customer base.

The SBDC was part of this step, helping to make sure she understood the pros and cons of operating an online business. The Business Consultant Jeff Dereume worked with Ariel so that she could build her clientele as efficiently as possible. Ariel decided to operate on multiple social media platforms, including Facebook. In addition to her website, she creates partnerships with local food bloggers and food services to create awareness.

The Key

Illumina Café has overcome multiple obstacles, including starting a business in the middle of the pandemic. However, Ariel's hard work has been paying off. The Café and Bakery offer high-quality niche products, and the business started generating revenue. Having well-established business goals was fundamental to her success.